Home
»
PlayStation 3
,
Reviews
,
Tech Review
PS3 Wireless Headset
Ever since it was first released, the PlayStation 3 has faced criticism for the inconsistency with which players use voice-comms when playing online. The console has never come with an in-box mic, and although it supports all manner of bluetooth devices, you can never be sure of how much chat you will be faced with from game to game, session to session. Though the launch of the PlayStation Wireless Stereo Headset alone is unlikely to buck this trend, if you're looking for a nicely packaged headphone and microphone combination, this may well be the product for you.
Announced some time ago, the headset has only just been released in the UK and has received very little in terms of promotion. With an RRP of £89.99, it is a premium priced gaming accessory, but is nevertheless on the more affordable end of the surround-sound headphone market, with a comparable set from Turtle Beach coming in at some way over the £100 mark. For the asking price you get the headphones themselves and a small USB dongle that plugs into the PS3 and provides the wireless signal.
Setting the headphones up is incredibly simple – you plug the dongle in, turn the headphones on and…that's it; you're good to go. As with the official PlayStation bluetooth mic, a press of button on the headset brings status info up on screen – detailing such things as battery level and whether or not the mic is on. Though a small feature, in practice it's very useful.
The headphones themselves are sturdily built with a design that is curiously reminiscent of the PlayStation 2 and although quite smart, their aesthetics are unlikely to appeal to anyone with a taste for high-fashion head-sets such as the popular Beats headphones from Dr Dre.
What they lack in beauty they make up for in functionality. As already mentioned, setting them up is easy, and set on the head-band are a series of easily accessible controls – a volume slider, a mic-volume slider and finally power and surround-sound buttons. They're also extremely comfortable to wear, with the wide head-band being nicely padded with cans that fit snugly over your ears and that do a great job of blocking out external noise. I've used the headset for extended gaming sessions and at no point have found them to be uncomfortable or distracting. So, in terms of ergonomics, they get a big thumbs-up.
Now on to the most important bit: the sound. Before picking them up, I owned a pair of standard Sony Wireless headphones, so have a pretty good benchmark with which to compare this PS3-branded headset. While I was more than happy with my previous headphones, the PS3 Wireless Stereo Headset's 7.1 surround-support was, for me, the main attraction.
Whether using them with the 7.1 or stereo settings, the sound produced is extremely crisp, with well balanced levels of bass and treble. I have to admit however that I was initially slightly underwhelmed by the 7.1 effect. Popping them on, I was expecting an experience of near cinema-standard where, in reality, the effect is far more subtle. The biggest difference between the 7.1 here and that of a full, amp based surround-sound set-up is that the positional effect isn't quite as pronounced; you do get an idea of where sounds are coming from but do not expect your head to be snapping around to identify sounds coming from directly behind you.
The real magic of the headset is in how the sound envelopes you; with the surround sound switched on, you get excellent sense of being in the middle of a game soundscape, rather than simply having a stereo soundtrack being piped from left and right. The difference is hugely noticeable when switching between 7.1 and stereo, and I can honestly say that I have no intention of ever going back to the latter.
The built in mic works exactly as you would expect, offering easily accessible voice communication and crystal clear feedback from your team mates and foes. The separate volume slider is also very useful, allowing you to turn off voice-comms entirely or bring them to the fore. There is a downside, however, that comes in the form of the actual construction of the mic – it feels incredibly flimsy. Thankfully it can be slid-back into the headband and does not have to be fully extended to be used, but you can't help but find yourself handling it with kid gloves. It also features a blue light (that can also be used to discern how much charge you have left) – when fully extended, this light can be a little distracting, but as the mic works perfectly well half-extended, this isn't too much of an issue.
Alongside the wobbly mic, the other cloud hanging over the PS3 Wireless Stereo Headset is that it can currently only be used with the PS3 or PC – so if you're looking for an all encompassing set of headphones to cover all your gaming needs, then you'd probably be better off looking else where. There may well be a work around for this, but at present I've been unable to find one.
Overall, the PlayStation 3 Wireless Stereo can be thoroughly recommended. They're reasonably priced, nicely built and come with a well implemented and intelligently engineered set of features. The 7-hour battery lifespan also offers plenty of gaming time (charging takes 3 hours). Most importantly, the sound quality they provide is excellent and the surround-sound really helps bring game worlds to life – so much so, in fact, that I've found myself opting to use the headphones over my 5.1 home cinema system – and I guess you can't get a much better praise than that.
This review originally appeared on www.gametaroo.com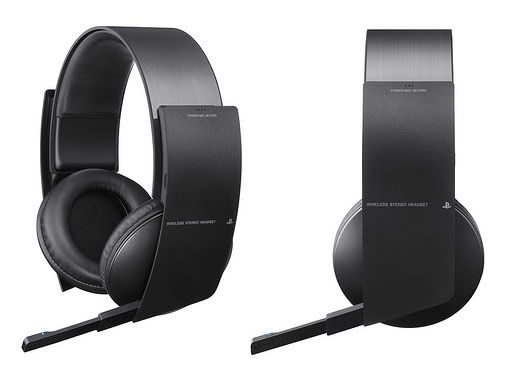 Have you downloaded the latest issue from GamerZines yet? Check it out here!